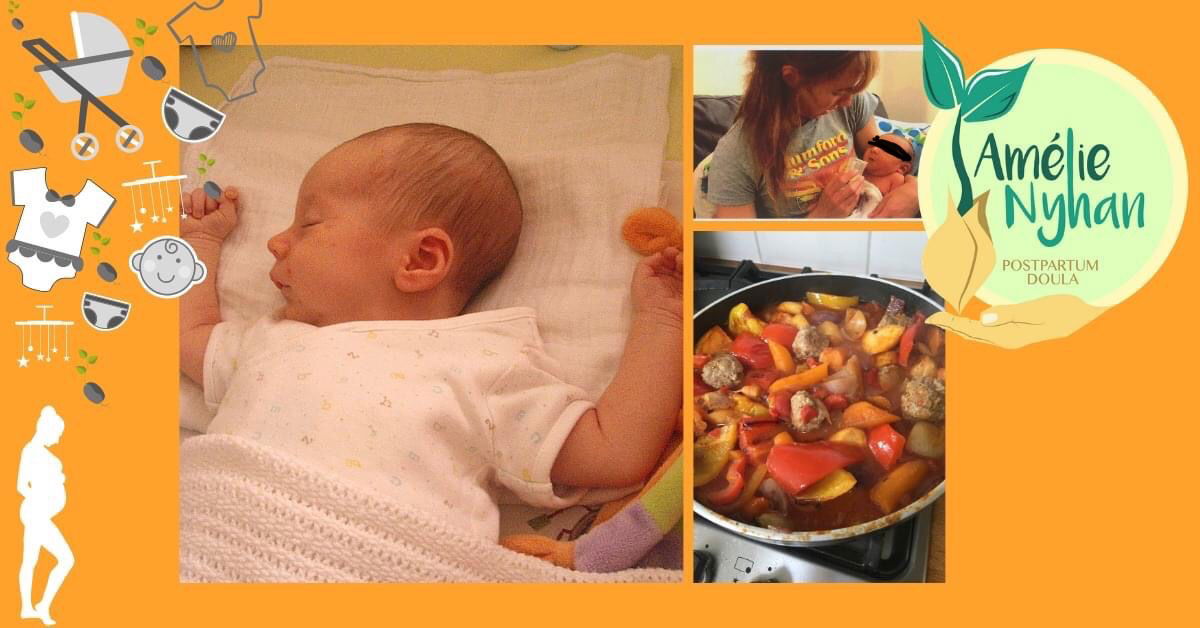 Postpartum Doula Services include
One prenatal visit to the family's home (maximum of 3 hours).
Providing practical tools and advice in matters related to newborn care, postnatal mental health, physical recovery, relationships…
Birth, surrogacy or adoption process debriefing .
Guiding new parents through baby care, such as bathing, nappy changes, sleep arrangements, …
Preparing healthy snacks and nutritious meals for the family, specialising in postpartum recovery through nutrition.
Light household tasks, such as laundry, changing bed clothes, sweeping floors, washing dishes, tidying, …
Guidance and support in organising the household in the early weeks postpartum.
Infant feeding support: Breastfeeding support and advice, or bottle feeding safe guidelines and support.
Running errands, such as food shopping or picking up prescriptions.
Providing accurate, up-to-date and evidence-based information in regards all aspects of baby care and mother/family care.
Providing referrals to other professionals when/if needed. Advocacy for the mother and the family when/if needed.
Emotional support and companionship for the new mother. Primarily in her own home, and also potentially during her first outings with her newborn baby/child.
Emotional and practical support for the new father, or other close relatives.
Support in looking after other children in the household, such as playing, preparing snacks or lunch boxes, …
In between visits: phone/text message/email support.
There is a minimum of 10 hours of service to secure booking. Whether you would like me to come to your home just a few hours during the first week home with your newborn baby, or whether you plan on hiring me for regular hours for the first few months, I can meet you to discuss all options, and for you to decide what will suit you and your family best.
Additional services may include overnight shifts, consultancy appointments, additional prenatal visits, batch cooking sessions, all at extra cost.
During your FREE pre-natal appointment, you will be able to address all the questions and concerns you may have regarding your 4th trimester. You will then, with the help of yours truly, lay out a completely personalised plan including all your potential needs and wants.
Fees:
Hourly Fee: €25 to €35 per daytime hour (fees are mostly set depending on your location, commute and availability. Please enquire directly in regards pricing)
€35 to €45 per Sunday and Bank Holiday day time hours/€35 per nighttime hour (nighttime hours are from 10pm to 7am, book 2 full nights of 9 hours each per week or more and receive a 5% discount ).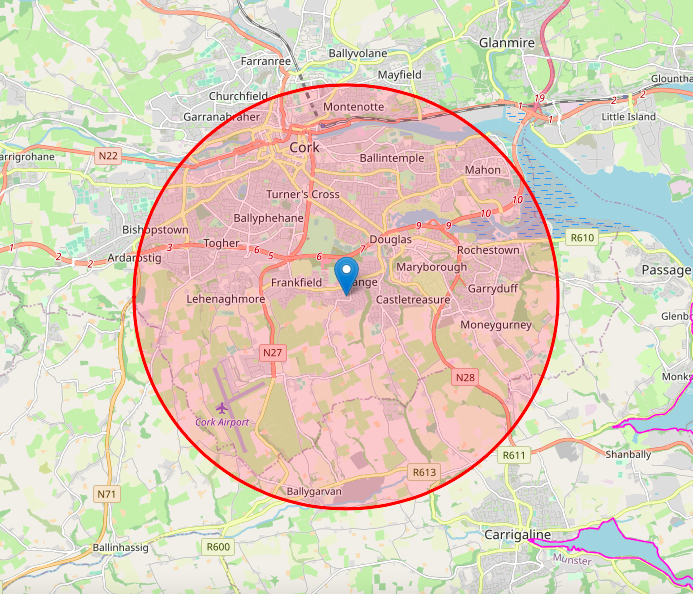 If you live within the zone marked in red, I cover your area!
You will be asked for a €250/€350 non-refundable deposit on signing your service agreement with me. This will secure 10 hours of Postpartum Doula services. You then have all the flexibility you want to use these hours or ask for more hours after you have had your baby.
Note: Unless pre-booked at time of signing the service agreement, only the first 10 hours are guaranteed, if you decide you need more hours of Postpartum care and support, availability cannot be guaranteed.
Covid Update: Some of the support may be offered over the phone or video calls in the event of Covid in either my household or yours. I will also offer some flexibility around preparing meals and delivering them to you, bring you some shopping, etc if your family is self-isolating. Note that I am fully vaccinated.